Assure America Named Erie Insurance 'Giving Network Agency of the Year'
6/13/2018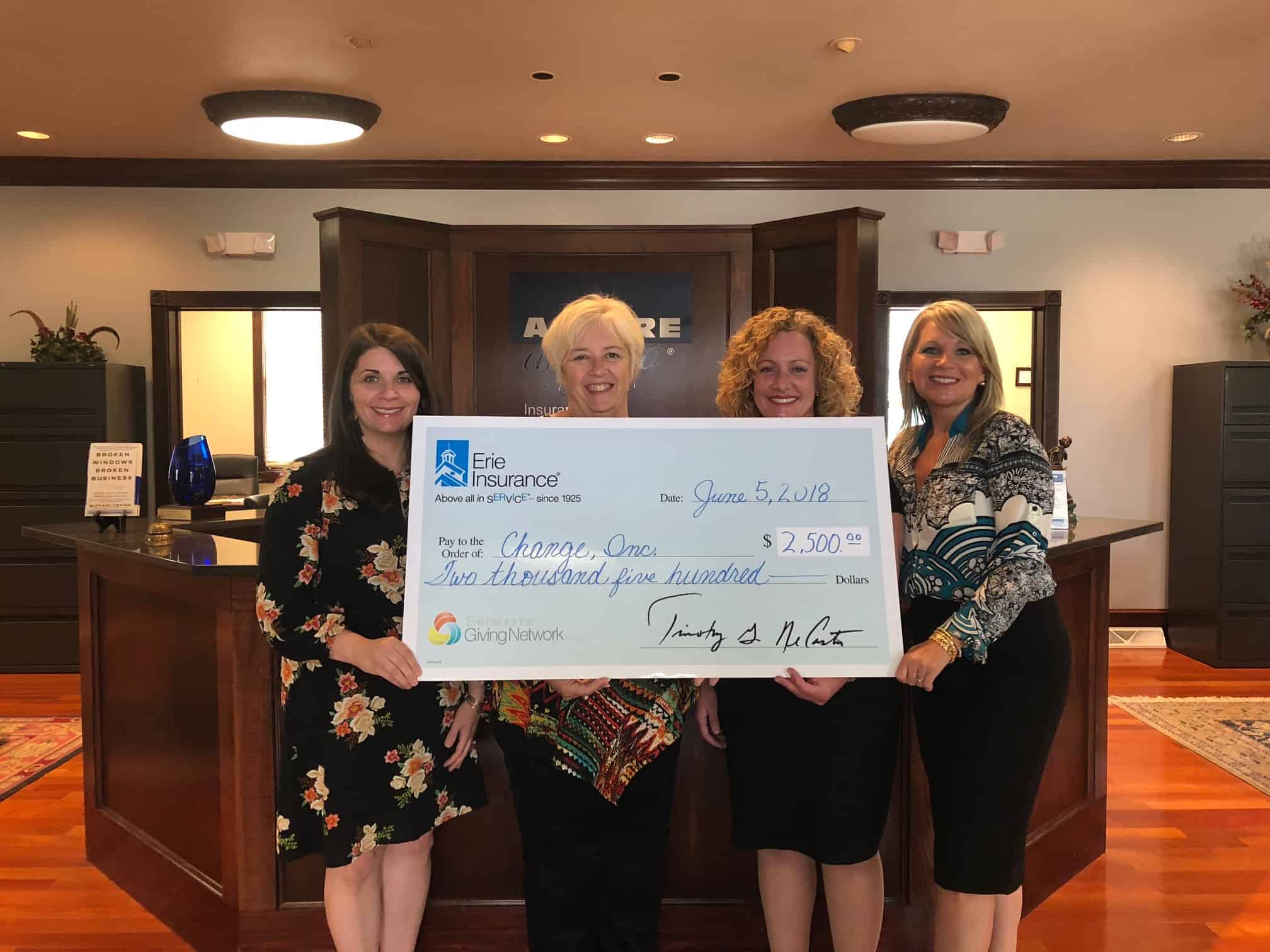 WEIRTON, West Virginia — Assure America Corp. has been named an Erie Insurance Giving Network Agency of the Year for its commitment to ongoing community service.
The Giving Network Agency of the Year Award recognizes agencies demonstrating extraordinary community involvement efforts. Winners are chosen by a selection committee, and one agency from each Erie branch is honored annually.
Gregory Hoffman, senior district sales manager for Erie Insurance, presented the award to Assure America at Erie's June 5 annual branch meeting in Charleston, West Virginia.
"It is always a difficult choice to single out one agency for this award, as so many agencies are involved in their local communities and support charitable organizations. This year's award winner gives back to the communities in which they live and work in several ways. They give back to local businesses, to children and to community organizations in the communities in which they live and work. It has been my pleasure to be associated with Assure America as the agency's Erie district sales manager and it was an honor to present the agency with this award," Hoffman said.
As part of the award, Erie will make a $2,500 charitable donation to a non-profit organization. This year, the donation will go to CHANGE Inc., which provides services such as housing programs, domestic violence awareness and meal programs.
"On behalf of CHANGE Inc.'s management and staff, I want to congratulate Assure America for being selected as the Giving Network Agency of the Year and naming CHANGE, Inc. as the recipient of the donation," said CHANGE Inc. Chief Executive Officer Judy Raveaux. "Our mission has not changed throughout the years as we continue to help others help themselves by creating partnerships on a local, state and federal level. This allows us the avenue to bring the necessary resources home to our communities and families in need. I am honored to accept this donation and thank Assure America for being one of those partnerships that we have fostered through the years."
Assure America's charitable initiatives include the Vision Improvement Endowment for West Virginia (VIEW), a business-to-business community development program. The agency also provides support to schools, museums and private organizations to help youth embrace the arts through its Arts Youth Education Program (AYEP).
Assure America representatives Anthony Clements, Renee Contumelio and Shannon Dickerson accepted the award for the agency.
"It was an honor to be able to accept the award for Giving Agency of the Year on behalf of Assure America. It gives me great pride to work for a company with such a great commitment to giving back to the community. I look forward to what our charitable programs can do in the future," said Dickerson, director of operations for the agency.
Assure America was founded in 1920 with the mission to protect clients from the financial consequences of an accidental loss. Education is a key component of Assure America's operating strategy, and the company currently represents more than 10,000 policyholders.
Assure America offers a full line of property/casualty insurance products, including auto and homeowners insurance, as well as commercial and life insurance. As an independent insurance agency, Assure America underwrites insurance in nine states with locations West Virginia, Pennsylvania, Ohio and Kentucky. For more, visit assureamerica.com.