By Erie Insurance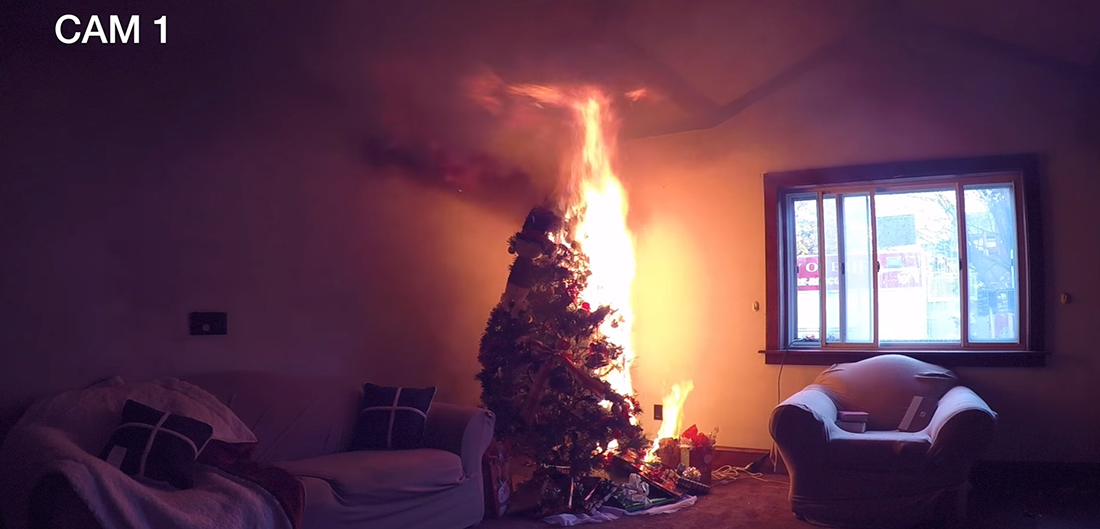 With twinkly lights, glistening tinsel and dozens of homemade ornaments, our Christmas trees tell the stories of our family traditions. But if your holiday memories spark into a Christmas tree fire, it can be a frightening sight.
While Christmas tree fires aren't common, they can cause serious and sometimes deadly damage. The National Fire Protection Association reports that an average of 160 home fires are caused by Christmas trees per year. The fires burn quickly and can destroy more than just the tree, resulting in $10 million in direct property damage annually, according to the NFPA.
WHAT CAUSES A CHRISTMAS TREE FIRE?
Many people love their Christmas decorations and choose to leave them up for a few weeks after the holiday. But when it comes to a dried-out live Christmas tree, that's a dangerous risk to take. The moisture content of your tree can determine how quickly a fire will spread. A well-maintained tree won't catch as easily as one with dry branches and needles.
HOW TO PREVENT YOUR CHRISTMAS TREE FROM CATCHING FIRE
Keep your tree shining bright and fire free with these helpful tips:
Water your tree. Once it's home, water it regularly. Pro tip: filling your tree stand with warm water when you first get home will help it absorb more quickly after a long drive.
Choose the perfect spot. To prevent fires, pick a location free from heating vents, fireplaces or candles. (But if you do decide to light a candle that pairs perfectly with the scent of your fresh pine tree, be sure to follow these candle safety tips provided to you from ERIE.)
Inspect your lights. According to the NFPA, nearly one in five Christmas tree fires start due to decorative lights. Before you start decorating, check your string lights for any frayed wires or other damage that could spark a fire. (Check out these additional tips on hanging holiday lights by ERIE.)
Turn lights off when you aren't home. And if you plan to take an extended trip, take a look at these reminders before leaving home for the holidays by ERIE.
LOOKING AFTER YOU
When it comes to holiday traditions, it's nice knowing your independent Assure America agent is there to help you protect both the old and the new. This holiday season, make sure you and your family have the right home insurance so you can tackle whatever life throws your way.